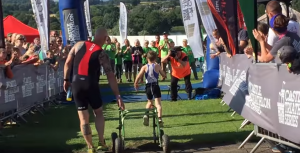 When 8-year-old Bailey Mathews came across the line the Castle Howard Triathlon in July 2015, there were cameras to capture the event. The video went viral within a short time. What was so special about the idea of an 8-year-old boy finishing a triathlon?
Bailey Mathews isn't your regular 8-year-old. He loves being active like many other children and he loves triathlons. Mathews suffers from cerebral palsy. The condition impairs movement in children. Children with cerebral palsy experience muscle stiffness and tremors. They also experience problems swallowing, hearing, speaking and with sensation.
Mathews hasn't let his condition get him down though. A few feet to the finish line of the Castle Howard Triathlon in Yorkshire, England, he decided to finish the race without his walking frame. To cheers from the crowd, he walked to the finish line. Although he fell down twice, he picked himself up and finished the race.
As if that wasn't enough, Mathews has launched a triathlon of this own. This triathlon is for children with disabilities as well as their families. The event is similar to other triathlons with a twist. It is easier to allow the children to complete it. Their families can also assist them.
"I enjoy taking part in triathlons," says Mathews. "If you want to try something, the best thing to try would be a triathlon. The Tri- is like Try." The Be More Bailey Triathlon consists of a 50 meter swim in a lake followed by a 2.5 kilometer bike ride. The race will be concluded by a 750 meter run. Children participating in the race can be assisted by an adult.
This year's triathlon will be held on July 17th. All the funds raised from the race will be donated to his foundation. The Be More Bailey Foundation helps to support the purchase of sporting equipment for children with disabilities.
"He is so happy and enthusiastic. He is inspiring," says Ken Stern, CerebralPalsy.org founder. "This is so great. His enthusiastic attitude is a great example of what kids with disabilities can do when provided with the right environment and support structure."
Mathews' efforts haven't gone unnoticed. He is the recipient of the Hellen Rollason Award. This was after his story came to the limelight and got various British celebrities interested. This year's triathlon will also receive support from sporting gear company, HuubDesign.