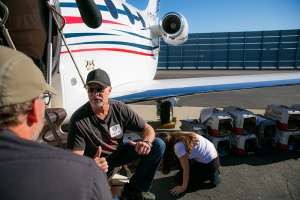 Pounds and pet shelters across the country are over-crowded. They're packed with animals who have done nothing wrong, but face the end of their lives if they're not adopted. It's a tragedy, but what options are there for people who want to help?
Michael Louis Kelly, a senior partner at the California law firm of Kirtland & Packard, LLP, volunteers with Wings of Rescue to provide a lifeline to dogs who are being kept in Los Angeles-area kill shelters.
An Airlift of Love
One of the tragic elements of this story is that there are many families across the country who would love to adopt the dogs in these Los Angeles kill shelters. But time and distance makes that impossible- how can a busy person in Portland or Seattle carve out time to come to Los Angeles and adopt a dog?
Wings of Rescue and Michael Louis Kelly bridge that gap. Mr. Kelly is a trained and certified pilot. He, and other Wings of Rescue volunteers, pick up dogs at these shelters, then fly them to locations across the Pacific Northwest.
Wings of Rescue has flown dogs to Washington state, Oregon, Idaho and even Canada. The pilots handle all of the logistical arrangements, as they know how to navigate the complexities of the air traffic control system.
"My profound joy in saving these defenseless animal's lives, and flying them to new, loving homes, is tempered only by the abject cruelty that they are subjected to before we get to them," Mr. Kelly said.
Wings of Rescue saved more than 7,000 pets in 2015, and hopes to save 10,000 in 2016.
To learn more about Wings of Rescue, you can visit their Facebook page. And to learn more about Michael Louis Kelly, you can read his bio here.