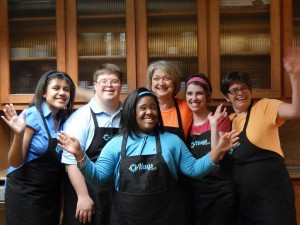 It's all in the name. Hugs Café is a place full of laughter and yes – hugs. However, it isn't your usual neighborhood café. Hugs Café is a nonprofit restaurant that gives adults with special needs the opportunity to work.
A recurring dream
It all started with a recurring dream. "I had a dream of people with special needs and volunteers serving customers in a cheerful place," says Ruth Thompson, founder of Hugs Café. "It was the same dream two nights in a row."
When Thompson told Chris, her husband, about the dream, he said "Well, then I guess we have to do it."
Thompson then went to work to make the dream a reality. "Things almost magically fell into place," recalls Thompson. The current Hugs Café location for example, is rented to her by a friend at a great rate. "It was the perfect location but too expensive. When I found out it belonged to a friend from church and I talked to her about Hugs Café, she burst into tears and offered me an incredible deal for the space."
Giving purpose
Hugs Café opened its doors to the public on October 13th this year in Texas. Business has been booming ever since. Staff consists of special needs adults who are assisted by a mainstream employee or volunteer. This ensures that everything runs smoothly.
"Pairing the special needs staff with volunteers ensures that they receive the support and respect they deserve," says Mari Jennings, a special needs teacher who volunteers at the restaurant. "It's hard for these guys to find opportunities to work. Hugs Café gives them that opportunity to work. They find people here that love them unconditionally."
Mike Sessom, a 52 year old retired teacher is a member of the Hugs Café staff. Sessom suffered a brain injury when he was thrown from a car in 1991. He acts as the Café's accountant. "He calls me every evening when he gets home from work, simply to thank me for the opportunity to work," says Thompson.
Still growing
All the money that the café makes is pumped back into the company. Thompson hopes to be able to open another café like it in another neighborhood. "We're giving people with special needs purpose," she says. "They receive a paycheck and walk through the doors with excitement every day. My vision is for every community to have a Hug's Café."