As the school year reaches a close, high school seniors face the ending of one chapter in life and the beginning of another. So they can be forgiven for being a tad self-involved.
But last week the senior class of Profile Junior-Senior High School united in their efforts to help someone else – and in a big way.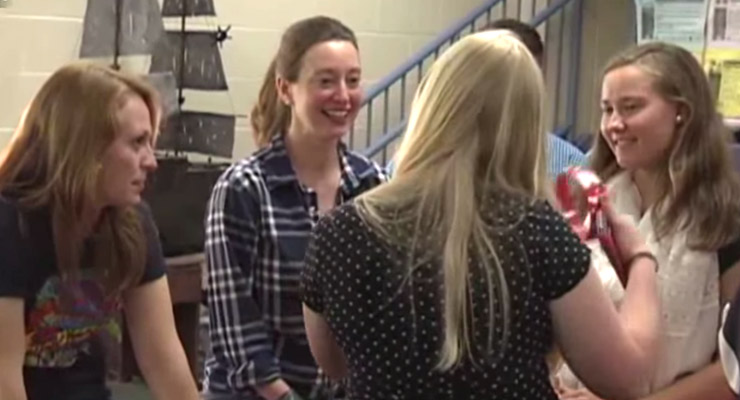 Courtney Vashaw, the principal of the Bethlehem, New Hampshire, school recently revealed that she had been diagnosed with a rare, aggressive form of soft tissue cancer called synovial sarcoma. Soon, she would be forced to take a leave of absence.
The senior class met privately and took a vote. Then they asked for a meeting with Principal Vashaw. They said they needed to discuss their upcoming senior trip. For the past four years, the senior class had been raising money for a trip to the Rydin' Hi Ranch in New York. So far, they'd raised almost $8,000.
However, when Vashaw met with the students, she found they had a different use for their money.
"We decided to not go on our senior class trip and donate all of our funds to your cause," said senior Ian Baker.
Vashaw was completely overwhelmed.
"It is very hard for me to accept help, and I have no idea what to say to you," she said.
"Every one of us has a connection to her," senior class president Christopher Sirois told WCVB-TV, "and she has given so much to us that we just wanted to give back."
As Vashaw explained to The New York Daily News, the gesture was about far more than money.
"Regardless of it being about me, this is such an educator win," she said. "You work so hard to make sure that you're cultivating good people who believe in something bigger than themselves.
"You're never really sure if those messages take root, and to see it live right here right now is really touching."
Even better, these generous students might still get a chance to have some fun. Yesterday, a middle school teacher in Seattle set up a CrowdRise page in order to fund another senior class trip. Any additional money will then go towards a cancer charity.
If you'd like to donate to these students, visit their CrowdRise page here. And check out the emotional moment where Vashaw learned about the gift:
Oh, and the vote the students took, when they decided to give Vashaw their money? The results were unanimous.