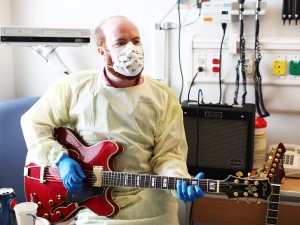 When Brian Schreck attended New York University for his masters in music therapy, he learned about the soothing qualities that the rhythm of the heartbeat has. But the musical therapist came to see and experience the healing power of the heartbeat when he begun incorporating it in his own music.
A symbol of love
The 35-year-old works at Cincinnati Children's Hospital hospice as a music therapist. He began recording the heartbeats of terminally ill children and incorporating them in original music scores that include the voices of the child's family.
"I believe that the heartbeat is one of the strongest symbols of love," says Schreck. The Park Hills, Kentucky resident and father of two uses a stethoscope and microphone to record the sound. He then creates a musical score with the help of the family and incorporates their lyrics and vocals.
An eternal connection
The music therapist then gives the families the original music score when their child dies. This is not only a symbol of love, but an eternal connection with their child.
"Parents are able to remember their children, even after they're gone," the composer of over 100 songs says. "I wanted to come up with a way to impact the families positively while they go through their toughest days. These songs are a tribute to the child's journey. The rhythm of the heart is so personal. Families feel connected to their lost loved ones. It brings them together and helps them prepare for the pain and grief that lies ahead."
A coping tool
Many families have benefited from the musical scores over the past two years. Kelly Marsh-Welton lost Natalia, her 9-year-old daughter to a malignant tumor. Schreck had worked with her to create a heartbeat song. They came together to make a cover of the song "All About your Heart".
"I used to sing the song to Natalia as a lullaby," says Natalia's mother. "This song is now a tribute to my little girl's legacy." The song was played at the funeral and her mother says she continues to listen to the song all the time.
Hope for the future
The songs have also provided hope for families still fighting for their children. "We had his heartbeat recorded when he was still in my womb," says Kiana Carter. AJ, who is now 17 months old, was born with encephalocele. The doctors expected him to live only for a few hours, but he's gone beyond expectations.
"I hope he will grow up strong and hear the song one day," says his mother.