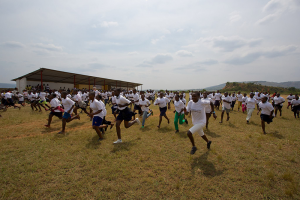 Going to high school is a given for children in developed parts of the world. But it's a different story for girls growing up in Rwanda. The girls are allowed to go to primary school but their education stops there. They are expected to take care of their younger siblings or work in the fields to help support their families. "Boys are seen by their parents as a better return than girls," explains Margaret Butler.
Inspiring morning runs
Butler arrived in a small Rwandese village in 2008. She had come to work as a health educator in the area. In line with her usual health and fitness routine, she would go out for a run every morning on Rwinkwavu's dirt roads. These runs were especially enjoyable when the local boys would join her. But then Butler noticed that none of the local girls ever joined her. They'd stand on the side of the road and watch.
Butler then decided to organize a run that was just for girls. "I thought it would be a great way to get people to talk about the empowerment of the girl child in the community," recalls Butler. She was joined by four hundred girls on the run. The local boys stood on the road side and cheered them on shouting, "Komera," which means 'courageous and strong." This would become the name of Butler's newly born organization.
A new direction
Butler was later approached by a 13 year old girl who had just finished primary school. Like many of the girls in the area, she was expected to stay home and take care of the family or work in the fields. But she begged Butler to help her go to secondary school.
Butler determined to help the girl and turned to her friends and family back home in Vancouver. They raised enough money to send the girl to school. But Butler's work wouldn't stop there. There were many other girls pleading to go to secondary school. In a country like Rwanda, only 15% of the girls go to secondary school.
"I thought this is just too unfair," recalls Butler. Komera's focus became to help one girl at a time by providing scholarships for school.
More hands
Hilary, Butler's mother, joined the cause and began organizing an annual summer marathon on Bowen Island to raise money for scholarships. This was the birth of Komera's Canadian chapter. Similar marathons have been run in New York, Boston and other major cities.
The organization has sponsored 75 girls to secondary school, paying for their board and fees. Their work received recognition on First Lady Michelle Obama's "Let Girls Learn" initiative recently which was a great boost for the organization.
"I hope that the girls become leaders and mothers who will also send their daughters to school," says Butler.