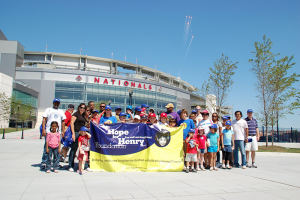 Learning that their two-week old son would spend his life in and out of hospitals was devastating for Laurie Strongin and her husband Allen Goldberg. The couple's son, Henry, was born with the rare and incurable Type C Fanconi anemia, a genetic disease.
The disease caps life expectancy at 30 years, but Henry didn't live that long. He died when he was seven years old. But in those seven years, he taught those around him what it was to be truly alive. "Henry never thought of himself as being sick," recalls Strongin. "He always had a smile on his face and people who knew him described him as one of the happiest kids they knew."
The legacy continues
Henry's sunny disposition was never deterred even through lengthy hospitalizations and years of medical treatment. When he died, his parents wanted to continue his legacy. They wanted to bring the same optimism and hopefulness that Henry expressed to other children fighting their own battles with serious illnesses and going through long-term hospitalization. The Hope for Henry Foundation was born on what would have been Henry's eighth birthday.
The Foundation brings gifts and throws parties for children with serious illnesses or facing long-term hospitalization. "We started small since we didn't have a lot of money after seven years of lengthy hospital stays and medical treatments," says Strongin. "We gave portable DVD players and Gameboys to young patients."
The program later expanded to throwing parties for birthdays, the Super Bowl, Halloween and other special events. "Henry lived his life to the fullest," says Strongin. "We want to bring that can-do attitude and hope to children like him."
More than simple gifts
Since its founding in 2003, the program has brought gifts and parties to over 15,000 children in Children's National Medical Center and Georgetown University Hospital in Washington D.C. In 2014 the foundation introduced the Super Path to Super Duper Better program where children received 'Henry bucks' for getting through trying stages of their treatment.
"It was difficult for my 17 year old daughter to have her head shaved after chemotherapy," recalls Annie Cronin, whose daughter Charlotte suffers from leukemia. "The super bucks program allowed her to get One Direction concert tickets. It turned a traumatic experience into something positive."
The Foundation's programs are having far reaching effects. "The impact is more than changing attitudes," says Carolyn Schneiders, a child life specialist. "There have been improved treatment outcomes too. Fear and anxiety in the children is being reduced leading to better outcomes for the children."