Have you ever heard of a man named Audie Murphy? He's one of the greatest war heroes the world has ever seen. Sadly, however, the world's memory of the man is slowly fading with the passing of time.
Audie Murphy is the world's most decorated war hero. During his service in WWII he was awarded 33 awards and medals including the Distinguished Service Cross and the Medal of Honor. He killed 240 German soldiers. And he did all this between the ages of 17 and 21.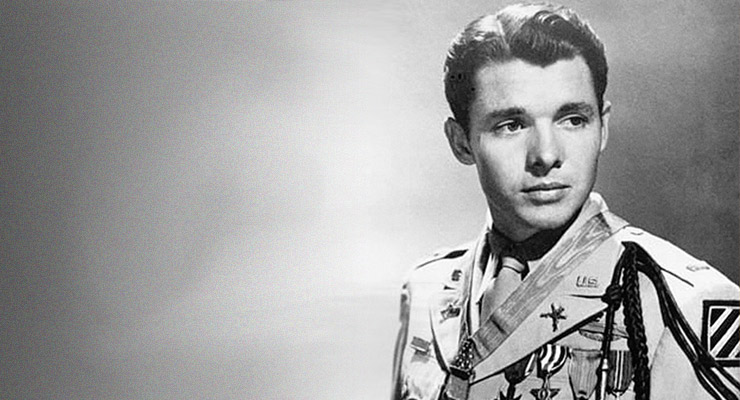 Humble Beginnings
Murphy was born on June 20, 1925 in Kingston, Texas. His family was incredibly poor, living in a run-down sharecropper's house. Murphy father, Emit, had 12 children but was only occasionally in their lives. He eventually deserted them completely in 1940.
In 1941, two events occurred which forever changed the course of Audie Murphy's life. First, his mother died. Then, in December, the Japanese attacked Pearl Harbor. Motivated by both patriotism and a desire to honor his mother's life in some way, Murphy joined the U.S. Army.
Exactly when is a bit unclear. Some stories say he joined at the age of 17 after his sister signed an affidavit (falsely) affirming he was 18. Other stories say he joined 10 days after his 18th birthday. Regardless, he was still a young man in 1943 when he landed in North Africa.
Military Service
Murphy quickly showed himself to be both brave and self-sacrificing. As a division runner in the Mediterranean Theater, he had several encounters with Italian and German soldiers. Notably, he and two other soldiers were once ambushed by Germans. One American was killed, but Murphy and the other man managed to turn the tables and kill five German soldiers.
Murphy was eventually shipped into the European theater, where he served with distinction.
On August 15, 1944, Murphy and his platoon were attacked by German soldiers in a vineyard in France. The Americans managed to win the battle after Murphy used a detached machine gun to kill two Germans and wound another. However, afterwards, two German soldiers emerged from a nearby house. They appeared to be surrendering.
Murphy's best friend, Lattie Tipton, approached the Germans. They shot and killed him, then retreated back into the house. Murphy, under direct fire, advanced on the house, which was full of German soldiers. Against all odds, he won. He killed six Germans, wounded two and took eleven prisoners. For this amazing act of bravery, he received the Distinguished Service Cross.
The Medal of Honor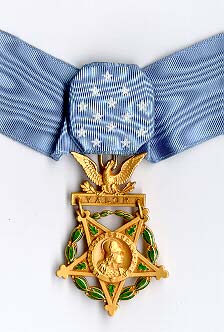 On January 26, 1945, Murphy received the Medal of Honor, one of only 3,460 Americans to do so. Murphy's squad was attacked by Germans, who disabled their M10 tank destroyer. Murphy ordered his men into the woods, but he stayed behind with the destroyed vehicle in order to radio in mortar positions. As the Germans advanced on him, Murphy mounted the wreckage of the M10 and got on its .50 caliber machine gun. He stood up there and fired for over an hour, fighting off German squads and even German tanks. Eventually, he stopped – but only because he'd run out of ammo. He'd killed or wounded at least 50 Germans. He rejoined his men and, even though he was wounded, continued forward, eventually repelling all the Germans from the area.
A Second Act
In June, 1945, Murphy returned home. He was the most decorated soldier in American history and the public was eager to learn more about him. LIFE Magazine put his face on the cover of its July 16, 1945 issue.
The cover photo caught the eye of actor James Cagney, who called Murphy and invited him out to Hollywood. With his boyish good looks, Murphy had the makings of a movie star.
Yet readjusting to civilian life proved difficult. While Post Traumatic Stress Disorder wasn't a diagnosis at the time, Murphy almost certainly suffered from strong PTSD symptoms. He slept with a loaded pistol under his pillow and developed an addiction to sleeping pills.
In 1949, Murphy's movie career had failed to take off as he'd expected. Depressed, and still haunted by the war, Murphy wrote and then published his autobiography, To Hell and Back. The book was a surprise success and quickly became a national bestseller.
The book was turned into a movie. After much consideration on his part, Murphy decided to play himself, feeling only he could accurately tell his story. The movie was released in 1955 and was a smash hit. In fact, it was Universal's highest grossing movie until Jaws in 1975.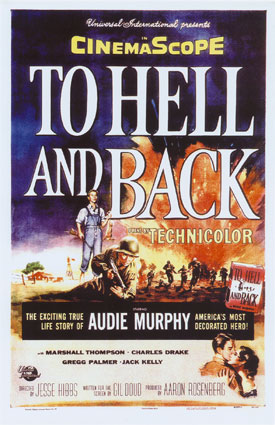 To Hell and Back is available to watch for free.
Murphy's movie career blossomed. He appeared in 44 movies, mainly Westerns. He also became a successful songwriter, with some of his songs performed by Dean Martin, Jerry Wallace and Harry Nilsson.
Murphy's life continued to be difficult, however. His PTSD symptoms never abated. He suffered from insomnia and nightmares. His sleeping pill addiction grew and grew.
On May 28, 1971, Murphy died in a small plane crash near Virginia. He left behind a wife and two children. He was also in financial ruin, having spent his Hollywood money primarily on gambling and bad investments.
But his heroism was never forgotten. Murphy was buried with full military honors at Arlington National Cemetery. His grave remains second only to JFK's in terms of popularity.
Audie Murphy's time was long ago. While many know his name, there are also many who do not. Audie's story – both the good and the bad – deserves to be told. So here's to Audie Murphy, a Hero we're honored to Highlight.
For more information about this American Hero, visit the Audie L. Murphy Memorial website.