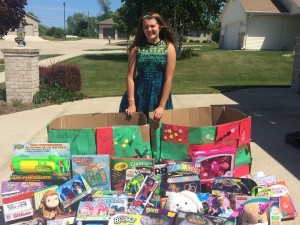 Lia Haile is in the sixth grade. Like many other children her age, she loves parties. But Lia doesn't just like a good party, she loves to throw parties for children who otherwise wouldn't have a party to celebrate their birthday.
Young with a big heart
When Lia was 9 years old, she heard about a 4-year old boy who was living at the Hope House. She heard that it was his birthday, but he wasn't having a party. "She came to me and asked whether we could throw him a party," recalls Tania Haile, Lia's mother.
According to her mother, Lia's always had a big heart. She's always concerned about other people and has shown this from an early age. Lia threw her first party for the little boy when she was only 9 years old.
"Birthday parties are special for kids," says Lia. "It's the one day of the year that is all about them. I think that every child should have the opportunity to feel special on their birthday. It made me feel sad that there were kids who didn't get that opportunity."
The Hopeful Hearts Club
The Hopeful Hearts Club was founded to provide less fortunate children with the opportunity to have a customized birthday experience. "Many of these kids aren't able to have a birthday party," says Lia. "I throw them custom parties. It is important, though it may seem small. "
Lia sits down with each child to find out what their interests are. She then approaches local businesses for food, decorations, and gift donations. A local baker supplies them with custom-made cakes for free.  She also runs a toy drive in which the community of Manitowoc provides toys for the birthday boy or girl.
A community effort
Lia doesn't throw the parties without help. She's inspired the community of Manitowoc to help these children. "She's such an inspiration to people of all ages in the community," says Justin Nickels, mayor of Manitowoc. "She's been able to draw the community together through her generosity."
Hopeful Hearts Club is assisted by volunteers who help to set up the parties and clean up after. Many parents who have lived in the homeless shelter and left usually come back to help. They say that their children had such positive experiences from the parties and they too want to give the same to other children.
Hopeful Hearts Club has successfully thrown 30 parties and hopes to throw many more.