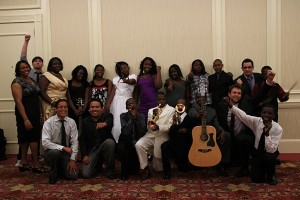 There are two different worlds in Miami. The first is full of glitz and glamour. It's the world of celebrities and the privileged. The second is one of poverty and children growing up with a bleak future. This is the world that professional musician, Chad Bernstein, hopes to change.
Statistics from the Department of Regulatory and Economic Resources show that one in every three residents living in poverty within Miami-Dade County is under the age of 18. Behind the mask of glamour that Miami is well known for are high school dropout rates, failing students and the abolition of many after-school programs. However, Bernstein, through Guitars over Guns, is bringing back the sound of hope to the children in Miami-Dade County.
Guitars over Guns, or GOGO in short, is a non-profit organization that operates within the Miami-Dade county's poorest communities, Allapattah and North Miami. The organization brings students in middle-school with professional musicians who teach the students how to play an assortment of musical instruments for free. The musicians also provide mentorship for the students.
Many of the children targeted by the program are facing the challenge of being successful not only in school but out of school. Some of the children have never been out of their neighborhoods. GOGO offers students the opportunity to work closely with their mentors and develop strong relationships with them. They are then taken to studios outside their neighborhoods to record songs. This gives them an opportunity to experience parts of Miami that once seemed beyond their reach.
It's not all about music and mentorship though. The program also provides social services and tutoring to ensure that the students are successful both in and out of school.
Why Music?
"As musicians, we understand what kind of power can be found in music especially when you're dealing with difficult issues in your life," says Bernstein. "We believe we are in a unique position to reach these kids and help them with the issues that affect them most."
Bernstein himself took up music to overcome difficulties when in school. He was the victim of bullying because he wore large green glasses and was tall and lanky. "Music gave me a sense of identity. I felt like I belonged and was good at something," recalls Bernstein. "I felt people would find it cool that I could play."
He went on to play with musical greats including Pharrell, Shakira and Jennifer Hudson.
Steady progress
GOGO has been in operation since 2008 and has worked with over 225 students in the county. According to Bernstein, the organization has witnessed a 90% improvement in school attendance and academic performance of the students that take part in the program.