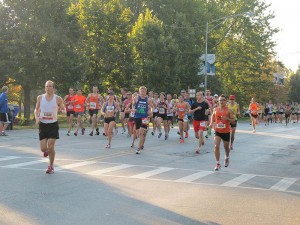 Not many people diagnosed with a life-threatening illness like cancer will decide to climb the highest free-standing mountain in the world. Jeff Goad isn't like most people and he hopes others on the same path can learn to fight back like he is.
Jeff is in good shape for someone in his 50s. He enjoys an active lifestyle. Just four years ago, he was running in the Chicago marathon. Surrounded by over 40,000 cheering people, he wasn't thinking about cancer but of taking back his life.
Why so young?
Jeff has always led an active lifestyle. He's run many marathons and played softball before he was diagnosed with multiple myeloma in 2010. His 50th birthday was in a week's time when he received the diagnosis.
"My first thought was, 'Why me? I'm so young,'" recalls Jeff. Multiple myeloma often occurs in patients in their early 70s. This form of blood cancer involves the accumulation of malignant plasma cells in the bone marrow. These malignant cells crowd out the normal cells which are important in decalcification of the bones and fighting off infections.
The disease is often diagnosed when patients fall and break their hips. In Jeff's case, a compression fracture of the spine that occurred while swinging a softball bat led to this revelation.
Fighting on his own terms
After undergoing two stem cell surgeries and chemotherapy, Jeff was in partial remission. This meant lower doses of the drug, Revlimid. "It also meant that I felt normal," says Jeff. "It was like I never had cancer." However, a recent scan showed that there was a lesion on his pelvic bone and his dosage would have to be increased.
But this news isn't holding the marathon runner and mountain climber back. He and his wife, Ramona, are part of a group of 15 people who will be trekking to the top of Mount Kilimanjaro in January 2016 to raise funds and awareness for the Multiple Myeloma Research Foundation.
"It has been my dream since 4th grade to climb Mount Kilimanjaro and see the Serengeti plains," says Jeff. Not even the news that he is out of remission is going to stop him from fulfilling his dream. He and his wife have raised over $18,000 so far. The whole team has raised more than their initial goal of $150,000 and are now aiming for $200,000.
Although Jeff's condition will slow him down, he believes he will still be able to get to the summit. He continues to mentor people who have been newly diagnosed with the same condition. He shares with them tips on how to stay healthy and positive. "I believe that all this is simply part of my destiny," he says.