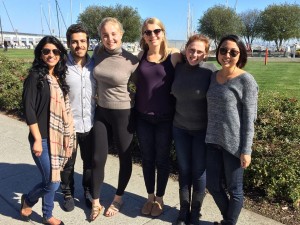 Komal Ahmad, 25, had her life planned out by the time she was in college. She had planned to join the Navy and had embarked on training by the time she was in college. However, all that would change after a chance encounter with an army veteran.
Life-changing meal
Ahmad had just returned from Navy summer training to complete her final year at University of California. "I was walking down a street near my campus when a disheveled looking man approached me," she recalls. "He asked me for some money to buy a sandwich."
Instead of giving him the money, Ahmad invited the man to share a meal with her. "We got to talking and he told me he was an army veteran back from a second deployment in Iraq." His benefits were yet to kick in and he therefore had no money. He had been evicted and now didn't have any food to eat.
Solution to the dumbest problem
"Just then a solution to the world's dumbest problem struck me," says Ahmad referring to her solution to hunger. The then 21-year-old embarked on founding a food recovery program on her campus. She engaged the dining hall on her campus to donate leftover meals to local organizations that served meals to the homeless.
Bump in the road
All was going well until one day the dining hall manager called Ahmad with big news. They had 500 sandwiches leftover from an event. Could she come and pick them up within 2 hours?
"I'd been working by myself and rented a Zipcar," recalls Ahmad. "It took half an hour to load the sandwiches into the car." The excitement soon died down when Ahmad called the local organizations with the news. "Many said they were ok for the day and I managed to give away only 15 sandwiches."
A new approach
"As I sat in my Zipcar with hundreds of perishable sandwiches and in tears, I thought how frustrating it was to try to do something good thing. Then it hit me. Maybe millions of pounds of food are thrown away because it is extremely difficult to get the food to the hungry."
Ahmad founded Feeding Forward. The web-based platform offers businesses with leftover food the opportunity to connect with organizations that can get it to the hungry. "You simply sign up as an organization and tell us what food and amount of food you have left over. The food is picked up and distributed to organizations in the area that need it. The platform has enabled businesses to donate more than 700,000 pounds of high-quality, fresh food that would have otherwise gone to waste.
"I won't rest until this program is replicated in all continents," says Ahmad.