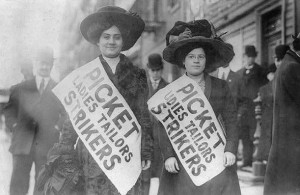 Dating back as far as the 1800s, these 12 women helped shape U.S. history with their advocacy, talent, courage, and fearlessness.  They may not be familiar names like Amelia Earhart or Rosa Parks, but without their significant contributions to women's rights, the impact of those names that have been etched into the history books made not have been felt as greatly.
Rose Schneiderman
A Polish born immigrant, Rose Schneiderman became an advocate for female workers' rights after laboring in New York factories in the early 1900s.
Anna Arnold Hedgeman
Involved in founding the National Organization for Woman, Anna Arnold Hedgeman was a civil rights leader who campaigned for racial equality by helping to organize the 1963 March on Washington.
Victoria Woodhull
Born in 1838, Victoria Woodhull was the first woman in U.S. history to run for president and an advocate of women's rights and sexual freedom.
Ellen Swallow Richards
An accomplished scientist and environmentalist, Ellen Swallow Richards studied chemistry at the Massachusetts Institute of Technology before passing away in 1911. She was the first woman ever admitted to MIT.
Willie Mae "Big Mama" Thornton
A singer and songwriter whose songs were later popularized by the likes of Elvis Presley and Janis Joplin, Willie Mae Thornton, aka Big Mama, influenced the early stages of rock 'n' roll with songs such as "Hound Dog" and Ball 'n' Chain".
Adelina "Nina" Otero Warren
A campaigner for public education, Adelina Otero Warren ran for Congress and helped give women the right to vote in New Mexico, where she was born.
Evelyn Witkin
Born in 1921, Evelyn Witkin recently won the Lasker Basic Medical Research Award for her scientific studies on DNA behavior. She received the award just last year.
Mary Tape
A Chinese-American mother who fought for her daughters' right to go to public school in the U.S., Mary Tape brought the issue of segregation in schools to trial in 1885. As a result of Tape v. Hurley, a judge ordered that Chinese children be allowed into public schools.
Jo Ann Robinson
Jo Ann Robinson spread awareness for civil rights by advocating for the Montgomery Bus Boycott as the president of the Women's Political Council after Rosa Parks refused to move to the back of the bus.
Pauline Oliverors
Born in 1932, Pauline Oliverors is an innovative musician and composer whose "Deep Listening" idea provides a "unique approach to music, literature, art, meditation, technology, and healing," according to the Deep Listening Institute.
Katharine McCormick
A feminist who helped develop the birth control pill by financially backing the lab research, Katharine McCormick's contributions to women's rights are still being felt today.
Lucy Stone
Founder of the American Woman Suffrage Association, Lucy Stone battled racism in the movement for women's rights to vote. She was the first woman to earn a college degree in Massachusetts.
For more comprehensive information about each of these women, please click here.